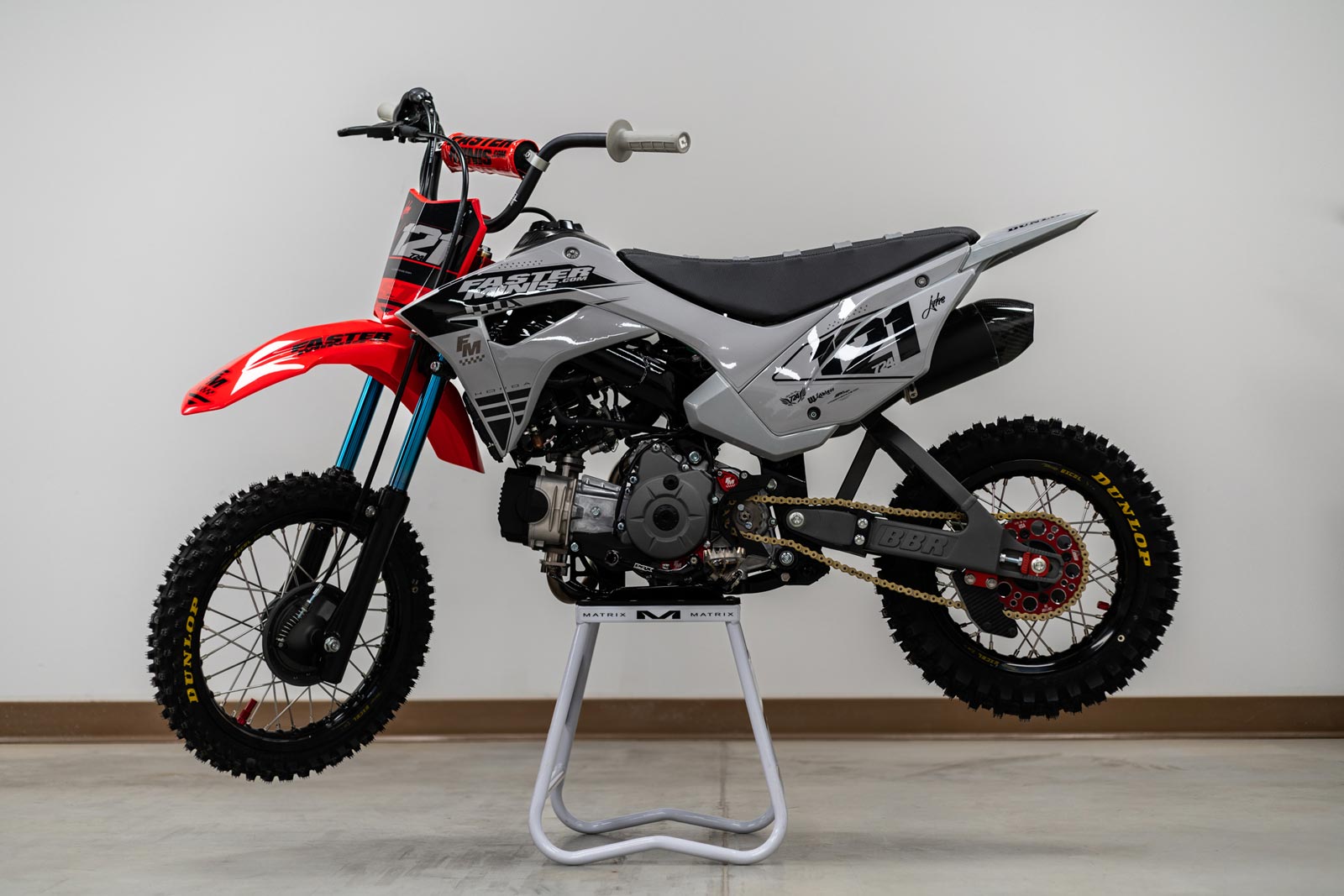 Top Mods for Your CRF110 Pit Bike
Nothing beats the feeling of bringing your brand-new pit bike home. If you're a proud new owner of a Honda CRF110, we know you're probably pretty pumped about your sweet new ride, but wondering how you can improve your new purchase. Here are our Top Mods for your Honda CRF110, and why they are crucial to your riding experience. 
As you likely know, a pit bike is manufactured for child-sized proportions, and modifying the parts below will make it more comfortable and a better ride.
Let's start with the handlebars. Upgrading the bars is one of the first things most riders do so they're not banging their knees in the ruts and corners. Also, stock bars can bend pretty easily after a crash (or two or three). Upgrading to an aftermarket bar kit (such as the easy-to-install T3 Handlebar Kit) gives you taller bars, extended cables, throttle tube, grips, and brake lever. A new kit looks great, is much more comfortable, and would be our first recommendation for your new bike. See all Handlebars.
Changing out your mini bike seat is one of the primary ways you can improve your comfort level. Instead of feeling cramped, a higher seat is a purchase you can make that will make an instant impact. A BBR tall seat comes in two colorways, and the ribbed non-slip seat cover provides additional support. It's stiffer, grippier, a full 1" taller than stock models, and is bolt-on ready. If you'd rather have a bit more control over the components, a seat cover and seat foam combination can give you just that. Check out the Thrill Seekers Seat Cover, which features rubberized vinyl for an unbeatable level of traction, combined with the Guts Racing tall seat foam for a sturdy core. See all Seats.
Springs are a less flashy upgrade modification, but one that can help improve the lifespan of your bike by better distributing the higher weight of an adult over sturdier springs. After you hit that first jump, you'll wonder why you didn't upgrade your springs immediately.  BBR Fork Springs are durable and crafted from aircraft-grade steel and at under $100, they're a choice that will make a marked difference. On the back end, you can add in the budget-friendly BBR Spring or spring (heh) for the more expensive DNM shock, which will give you a wider range of performance and quality. See all Suspension
A peg bar can help reduce foot strain and also better distribute your weight. Upgrading to the proper pegs (rather than a youth or child size) can enhance your ride immediately. The Pitbike and Destroy peg bar kit comes with all the hardware and parts that you'll need to make the switch. The powder coating looks modern and sleek and is comprised of high-strength steel. See all Foot Controls
Many riders want to upgrade their exhaust immediately after purchase, and there are plenty of reasons why: an aftermarket exhaust looks better, sounds better, and can give riders an extra boost of horsepower. If you're overwhelmed by the selections available, we recommend starting with any high-end brand such as:
Lastly, If you're looking for an investment that will pack a real punch, the Yoshimura RS-2 (for years 2013-2018) and RS-9T (2019 present) will surpass expectations. See all Exhaust
After your first case off a jump, you'll be wishing you had a skid plate. Skid plates protect the motor from rocks, branches, and the face of the jump you're coming up just a little bit short on. The skid plate is a great way you can add an affordable upgrade, and protect the heart of your ride: the engine (View the whole selection for the CRF110 HERE). See all Bike Protection
Let's face it, when you're riding a dirtbike, you're gonna eventually crash. In that inevitable tip-over, one of the first parts to suffer is your shift lever and shift shaft. That's where folding levers and shift shaft braces come to the rescue. With price tags starting at just $49.95 for a brace, and $30 for a lever, you can make this upgrade without a huge investment. Our picks?
The FM Shift Shaft Brace

,

which comes outfitted with extended hardware and sturdy anodized aluminum. 

The Pax Racing Shift Lever, which will suit any CRFs that are from 2013-present. With its forged aluminum alloy design and laser-etched logo, it looks sharp in either colorway: red or black.
Lastly, your tires are integral to a smooth and comfortable ride. The GeoMax MX53 will give you better traction, maneuverability, and a taller profile. The stiffer sidewalls actually protect your rims from bending. It boasts features like the horseshoe block pattern (which provides better grip while braking), and tie bars between the knobs which reduce flex. These features work hand-in-hand to improve the durability and lengthen the life of your tires. The
Bridgestone M403
is a superb pick for the rider who wants improve control through the corners, since it's been tried and tested by Supercross and Motocross riders alike. See all Tires
Although these modifications will all create a better, more holistic riding experience for you, they can be done over time. We believe that as you ride, you will discover what works best for you and your individual bike. That's also why we offer plenty of guidance to our customers, whether you're brand new to this world, or a pit bike pro. Stay tuned to the blog for more tips, ideas, and inspiration for your pit bike journey!