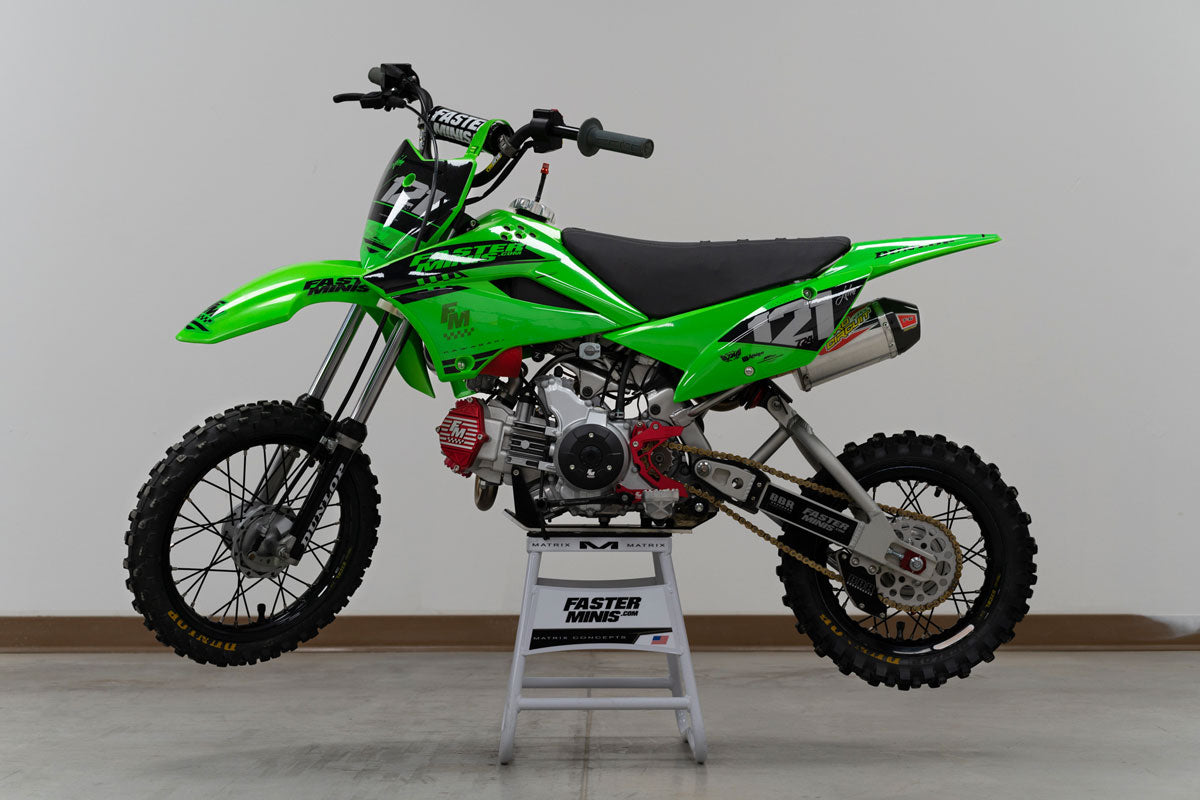 Our Top Mods for Your KLX110
Capable. Versatile. And a blast. There's a multitude of reasons that the Kawasaki KLX110 is a favorite among riders both young and old. It's a powerhouse that can take you from the pit to off-road adventures with it's sporty, race-inspired styling and design. Plus it's one of the few popular pit bikes that have a manual clutch version (the KLX110L). It has plenty of room to be modded to your heart's (and body's) content. So what are our picks for these mods? It's time to make your bike your own. 
Does your handlebar height matter? You may not think a taller handlebar set will make a difference, but riders find that higher sets increase the attack position and feedback during their ride, as well as their comfort level. In addition, if you have ailments like lower back problems, a higher handlebar will give you more support and comfort while standing, versus the stock models.  The most popular are the
Pro Taper Mini SE bars
, but with the higher bend, you'll likely need to invest in a longer brake cable (and clutch cable if you're running the L version). We recommend the
T3 Handlebar Kit
for an easy-to-install and affordable choice, and the
Pro Taper Pit Bike
Handlebar Kit is always a fan favorite, which comes with a top triple clamp. The Pro Taper triple clamp on the kit is stronger than stock, and reduces stock fork flex, and allows you to lower your forks for even more height. See all Handlebars.

A taller seat can give you a better center of gravity and make a pit bike more suited to a taller rider. If you're considering replacing the stock seat, the BBR Tall Seat Assembly will give you an additional 1" of height over the stock seat. It is easy to install with just two bolts, and features a non-slip seat cover for maximum stability. If you have a '02-'09 KLX110, you can also check out the Pleated Gripper Seat from Piranha. It has a folded seat surface for grip, and a foam core that will withstand any berms the track throws your way. 
Stiff springs are made to absorb the weight of an adult rider, and provide better suspension (preventing bottoming out). Stiff springs that are suited to the proper pressure provide a much more consistent ride and smoother feel around the corners. The Heavy Duty Fork Spring by BBR will help you soak up ruts, whoops, and jumps, and the this DNM Shock ('L' version here) will stiffen up the rear. Looking to go all out? This Elka Stage 2 Rear Shock is the way to go. See all KLX110 Suspension here.
Upgrading from a stock peg bar to a wider and more adult-friendly one gives you more space between the peg and the brake (and the shifter on the L) to absorb any impacts and feel less cramped while you ride. The longer peg length can also give you more leverage when you're coming in and out of turns. The Pitbike and Destroy Footpeg Kit comes with the peg bar and a set of pegs will give you amazing traction with a wide footbed (and less mud retention). Plus they threw in a kickstand, which let's be honest, comes in handy on a pit bike. For a budget-friendly version check out the Two Bros Peg Kit, which fits all KLX110s.
Making an exhaust change can alter the air and fuel ratios, and give you a significant and positive difference in the jetting. The stock pipe and muffler that come on your KLX110 are fairly underwhelming, so it's ideal to choose something that will amp up your power and sound. The RE 13 Exhaust from Bill's Pipes will give you ample horsepower and torque for an excellent price. You'll notice an immediate difference in the power and strength, as well as the volume. The Pit Bike Chubby is a more compact choice that gives you plenty of power and volume (with it's octagon-shaped muffler housing), and if you experience crash damage, all the parts are individually replaceable!
Of course, you want to protect your newest investment, so skid plates or cradles can give you peace of mind. Skid plates like the ones from BBR bolt on in just minutes and are crafted from 3/16" thick tig welded 6061 aluminum. A frame cradle is the next step up from skid plates, and gives you actual frame reinforcement, which some riders prefer. Lastly, a sprocket guard makes sure those crucial pieces are being kept running smoothly, and keeps dirt from being ground into the sprockets and chain. For under $50, it's a solid investment. 
Choosing terrain specific tires is one of the best investments you can make in your new pit bike. It reduces strain on the frame and wheels by adapting to where you are riding, giving your bike longer life and less maintenance.
The Dunlop MX33
tires feature their signature Apex Design for excellent shock protection and improved steering on intermediate terrain. As you carve, you'll love then way the block distribution aids in slide control. For a more hardcore experience, check out the
Maxxis Maxxcross
tires, which will take you offroad with ease and style. They have a knob design that will keep you steady over intermediate to hardpack conditions. 

The Kawasaki KLX110 is well-known for its ease of use and the one-two punch it packs with it's solid engine and intelligent design. With these mods, you can easily customize it to suit your size, riding preferences, and get years of enjoyment out of it. Stay tuned to our blog for the latest in riding news, and pit-bike mods. 

See all KLX110 Parts & Accessories